By Justin Downey, BESc., BSc., MSc.
Director, Client Solutions, ParticleOne
Nothing tests a new product like a crisis.
When we launched ParticleOne in mid-2021, most of the world was battling Delta, but hope was on the horizon. Vaccines had arrived. Treatments were improving. And restrictions were loosening in many regions. With more talk about COVID becoming endemic, we too, cautiously expected our risk-management software's purpose to shift from managing acute COVID outbreaks to managing occasional outbreaks and other airborne viruses, including influenza.
Not surprisingly, the data soon alerted us to a different reality.
Keeping ahead of Omicron
Long before it was named "Omicron," ParticleOne modelling flagged increasing infection rates in specific regions likely linked to a new variant of concern. By mid-November, while much of the population behaved like COVID was over, one of our UK-based clients was procuring resources and preparing for the likelihood of another lockdown. A week after the WHO declared Omicron a serious threat, the UK government announced new restrictions. What seemed sudden to many businesses, was something our client was well prepared for:
"ParticleOne had been flagging an increased risk of infection in our city for several weeks, which led us to reduce our occupancy rate to 50 percent—well in advance of the government's 'work-from-home' order. Having ParticleOne is a bit like having your own self-built infection risk analyses. We get an early warning of what government actions may come through the pipeline, long before anyone else."

Ender Ozkan, Vice President – Europe, RWDI
Now, a month later, the UK is once again relaxing restrictions. Yet, to ensure staff remain protected and to avoid another disruption in operations, our client is choosing to let ParticleOne guide them on which measures to effectively reduce now and which to keep in place until it is truly safe.
New variants, new modelling
The unprecedented speed in which Omicron overtook Delta was shocking. It also meant that ParticleOne's modelling had to quickly factor in a near doubling of transmissibility and rapidly increasing case counts. In addition, vaccine effectiveness was clearly waning for those previously considered to be "fully vaccinated," which significantly impacted risk. In some cases, buildings and spaces that were considered "Prepared" against Delta, were abruptly classified as in "Caution," once the system was updated with the Omicron profile.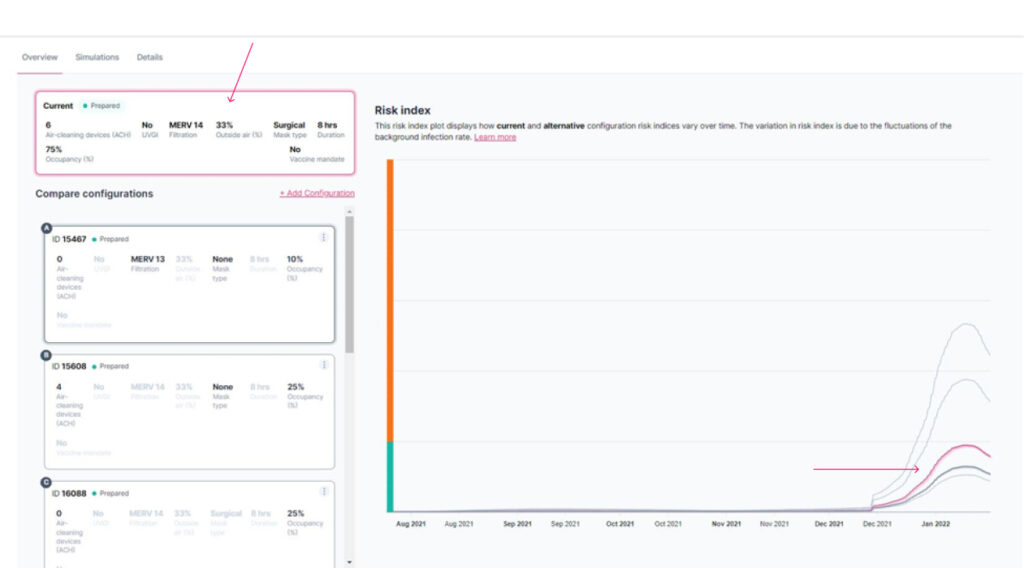 For one downtown Toronto business tower in early December, this meant implementing new protocol to keep office workers safe and food services open. "Dine in" shifted to "take out," and both vaccine and mask mandates were activated. All was decided, deployed, and communicated to staff and visitors, hours before the Ontario Science Table had even released its updated modeling to alert the public—and government—about what Omicron was expected to do.
In January, as most of the province and schools continued in lockdown, an industrial facility in Ontario wanted to reduce the risks for its essential workers who didn't have the option to work from home. Again, ParticleOne developed a plan that calculated an appropriate increase in air exchange rates in the warehouse that, weeks later, continues to keep these workers safe without a single transmission event traceable to operation of the facility.
Open for business
Obviously, as building-performance engineers and scientists well versed in pathogen spread, we believed in the potential of ParticleOne from day one. But it was—and is—during this latest wave where its effectiveness and responsiveness proved its long-term value.
In a decision-weary world, with growing concerns around labour shortages and supply chain disruptions, we are understandably anxious for this to all be over. We want to fully restart our economy and live our lives with the right balance between respect for each other's health, and the objectives of a functional society. While the threat of airborne pathogens may never be over, our ability to navigate them with technology like ParticleOne is the solution that will soon see us thriving once again.